Why We Chose This
Here is the newest in variable voltage vape kits. A sleek and chic design made to last. With a variable voltage from 3.3V to 4.8V, this battery provides the ultimate in vape pen adjustability. Compliment this amazing pen with BC Trees best-selling 510 thread as well as award-winning ceramic cell and wickless cartridges.
What's in the Kit
Cartridges Sold Separately. Find cartridges here – BC Trees Premium Organic Oil Cartridges
 Directions/Instructions
Press button 5 times in rapid succession to turn on and off.
Adjust voltage by spinning the dial found on the bottom of the pen.
Hold button down while inhaling on the cartridge
When charging, red light means charging. Green means fully charged. *Fully charges in about an hour*
All disposable pens, pen cartridges and pen batteries can be returned for a Store Credit if your product is proven to be defective. You can return your items to Birch + Fog within *15 calendar days of receiving your order*. Please contact [email protected] to speak with an Experience Concierge for further assistance
Customer Reviews
Write a Review
Ask a Question
Filter Reviews:
code
purchase
voltage
price
cartridges
BC Trees
cart
value
problems
battery
27 Nov 2020
Christina
CA
Amazing - BC Starter Kit
Love the pen. It's small and compact so I can take it with me everywhere. Love that it's rechargeable by USB. Great pen for its cost! Use my code: 'DUMO' for $20 off your first purchase !
01 Oct 2020
shedev
Canada
Hey .. to D in the reviews
love the feedback as this info helps me in the canna industry. Actually, the BCtrees battery /charger box has this info. "Variable voltage designed to increase or decrease the temp of cart... etc. Battery is preset to 3.3v - the optimum settings for BC Trees CO2 oil. [soure: the box designer person] Looks like you didn't get a box for whatever reason. we 'did' have some printing issues so that could be why, but ya..settings are there. thx for noticing the details. I ordered a cart as i dont ask my clients for freebies. i just realized mine was set about 3.8. i cannot imagine any of a higher setting...but you can? sweet lord.
P
22 Sep 2020
Phebe
CA
Dainty little pen
The pen is pretty and convenient to use.
10 Sep 2020
D
Canada
Great product for Price
This is a great little device especially for its price point. It appears to be put together nicely, has some weight to it, a nice satin matte feeling, and a textured voltage dial (3.3v to 4.8). I appreciate that it has a cohesive design through the pen, it's cartridges and even it's matching charger. **Note Cartridges are sold separately** My only complaint is that I wish self branded vape companies (Such as BC Trees) would include a recommended temperature/voltage/etc on the cartridge that corresponds with the devices settings. Just seems like a missed opportunity to maximize the users experience, like "hey we know this will work any which way but we've curated this combo for you." Also worth mentioning my pen came free as a promo, but came in a bag not a box. Overall it is a slick little unit. Use my special code "FLIPPER" to get twenty bucks off your first purchase from Birch!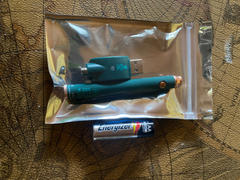 21 Jul 2020
Anonymous .
Canada
Awesome
Great product. Use my code POOLTIME to get $20 off your first purchase!