feelCBD Sleep Vaporizer Kit
Why We Chose This
Inhale all natural relaxation – exhale rest and comfort. With essential spearmint, chamomile and eucalyptus oil; to help sooth sore muscles, promote relaxation and alleviate anxiety. This soothing blend of CBD and spearmint, eucalyptus, and chamomile essential oils is just what you need to experience a deep night's sleep.
Each kit comes with a refill cartridge containing 250mg of CBD. We only use Full Spectrum CBD as research shows a full spectrum of cannabinoids and terpenes work most effective together, not isolated. Our Full Spectrum Hemp CBD Oil is extracted through Super-critical CO2 Extraction.
All FeelCBD vaporizer devices are heavy metal tested to California Standards (strictest global standards currently in place). Our proprietary devices are designed to never heat the oil above 200°F to avoid any harmful carcinogens.
 Ingredients
Full Spectrum Hemp CBD Oil, fractionated coconut oil, spearmint essential oil, eucalyptus essential oil, chamomile essential oil.
What's In The Kit
1 feelCBD pen battery
1 feelCBD pen charger
1 feelCBD 510 cartridge
Directions/Suggested Use
Screw cartridge into battery and draw air from top of cartridge to activate. Indicator should light up during draw to show battery is activated. If light flashes when attempting to draw, charge device with supplied charger.
Start with 2 to 3 draws per use for quick relief. Use as often as desired.
Cautions
19+ only. Keep out of reach of children. Use caution when driving or operating machinery. If you are currently taking any pharmaceutical drugs, are pregnant, breastfeeding or have any medical conditions, please consult with your physician before use. Ask vet or animal doctor if this product/strength is right for your pet.
Shelf Life/Storage
Store in a cool dry place, and in a protective case.
All disposable pens, cartridges and batteries can be returned for Store Credit if the product is proven to be defective. Please contact [email protected] to speak with an Experience Concierge for further assistance. You can return your items to Birch + Fog within *15 calendar days of receiving your order*.
Customer Reviews
Write a Review
Ask a Question
Filter Reviews:
sleep
feeling
vape pen
puffs
thoughts
mind
item
Works
draw
Charges
06/28/2020
Christopher S.
CA
06/11/2020
Courtney F.
CA
06/10/2020
Catherine L.
CA
Amazing product
Amazing product. I stand by this pen and company! Great tasting, instantly soothes the soul and the fact that the cartridge is interchangeable for my other Feel CBD moods!
06/08/2020
Karly H.
CA
I suffer from PTSD, GAD,
I suffer from PTSD, GAD, OCD, ADD and MDD. Yup! An alphabet of diagnosis'! I have awful insomnia and nightmares. I rely on pharmaceuticals, but sometimes need just a little extra and I've found the CBDSleep to be very helpful, especially when I'm needing to calm down after a nightmare.
Thank you so much for sharing this amazing feedback with us. We appreciate all your openness and honesty and are so happy to hear this product is helping you. We appreciate all your support and love, B+F Team
06/07/2020
Sarah P.
CA
This has replaced my evening
This has replaced my evening dose of ingested oil. It keeps me asleep, and I wake feeling like I slept the night :) one cartridge is lasting me a while, which saves on the pocket book! No issues with the pen so far. I even bought another kit of feelCBD calm which I also love for an afternoon pick me up. Great deal! Use code SARAHSENDSLOVE for a discount !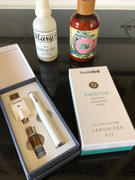 Thank you so much for the fantastic feedback on this feelCBD Vaporizer Kit! We are so pleased to hear how well this is working for you, and appreciate all your support! Much love, B+F Team