LOA Hemp Oil All Purpose Moisturizer
Why We Chose This
Rich in omega 3 & 6 essential fatty acids and soothing phytonutrients, our 12 powerful botanicals work synergistically together to effectively soothe dry, problematic issues while promoting clear skin.
The powerhouse of our formula is the LOA infusion, where terpenoids and other phytonutrients are extracted into organic hemp seed oil from four unique herbs. The end result is a luscious, light-weight moisturizer that makes a great base layer for makeup, an everyday moisturizer, or a deep conditioning treatment for hair and nails.
Vegan and palm oil free.
Ingredients
Ingredients: Evening primrose oil*, hemp seed oil*, calendula flower*, gotu kola leaf*, licorice root*, tamanu oil*, plantain leaf*, rosemary CO2 extract*, palmarosa essential oil*, tea tree essential oil* , frankincense essential oil*, geranium essential oil*.
Content
50 ml glass bottle with dropper
Suggested Usage
Gently rub into dry or irritated areas 1-2 times daily. Add a few drops to daily moisturizer for extra hydration and a dewy glow. Use after showering and prior to beauty routine, as well as before bed. Consult a health care practitioner prior to use if you are pregnant or breastfeeding. Not suitable for those with a tree nut allergy.
Customer Reviews
Write a Review
Ask a Question
Filter Reviews:
body
everything
smell
hands
anyone
skin
review
face
bottle
moisturizers
07/14/2020
@mrsmeganb
Canada
Loving this so far!
I'm loving this product so far! It doesn't cause me to break out and spreads very well! It's made my face feel very soft and I use it for my hands as well! My ONLY "complaint" is the smell of the elixir. It's smell of this oil is slightly off putting for me.. This is of course just my opinion and everyone's noses are different!! I've used it almost every day since I got it and I'm happy with it so far!! The packaging is my favourite part, the bottle, the box, all of it is beautiful!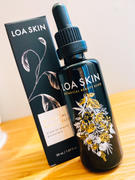 06/26/2020
Peggy
Canada
Love this stuff
Works better than the facial serum. I'm not too big on the smell of it however. You also get a better bang for your buck when you buy this vs the facial serum - IMO
05/22/2020
Chevrolet
Canada
Disappointed
Unfortunately this product did not work for me. It's been 3 weeks since Ive been using it and my acne is still red/inflamed and still having breakouts. I had such high hopes for this product as well.
05/12/2020
Margaret P.
CA
Surprisingly better than the Facial Serum I purchased!
The LOA Hemp Oil is surprisingly better than the Facial Serum I purchased. The Hemp Oil is exactly as it says - All Purpose Oil. I use it on my face every morning and evening and my feet feel as smooth a a baby's bum from using it every night. Highly recommend.
05/01/2020
Anonymous
CA
Hum... sorry this isn't a
Hum... sorry this isn't a better review.. Especially in a pandemic BUT this is super stinky! Like really, really stinky! I'm not sure I'll be able to use it.