LOA Hemp Oil All Purpose Moisturizer
Why We Chose This
LOA is a daily multi-correctional serum & lightweight moisturizer in one. LOA is rich in omega 3 & 6 essential fatty acids which are critical for repairing the skin's moisture barrier, maintaining hydration, and preventing dry skin. Supercharged with their in-house infusion of 15 powerful botanicals (calendula, echinacea, saw palmetto, etc), LOA helps reduce irritation, breakouts, and redness. Terpenoids and other phytonutrients are extracted into organic hemp seed oil from unique herbs, including Astaxanthin, one of the most potent antioxidants ever discovered. The end result is a luscious, light-weight moisturizer that makes a great base layer for makeup, an everyday moisturizer, or a deep conditioning treatment for hair and nails. Expect glowing, clear skin accompanied by long-lasting hydration.
Vegan
Organic
Palm Oil free
GMO Free
Ingredients
Evening primrose oil*, hemp oil*, chia oil*, calendula flower*, astragalus root*, echinacea root*, gotu kola leaf*, saw palmetto berry*, licorice root*, turmeric root*, rosemary CO2 extract*, astaxanthin CO2 extract+, bergamot essential oil+, blue chamomile oil*, jasmine absolute oil+, sunflower oil*.
What's In the Bottle
50 ml glass bottle with dropper
Suggested Usage
Gently rub into dry or irritated areas 1-2 times daily. Add a few drops to daily moisturizer for extra hydration and a dewy glow. Use after showering and prior to beauty routine, as well as before bed. Consult a health care practitioner prior to use if you are pregnant or breastfeeding. Not suitable for those with a tree nut allergy.
Customer Reviews
Write a Review
Ask a Question
Filter Reviews:
skin
face
drops
hands
smell
everything
body
scent
bottle
feet
26 Dec 2020
Anonymous

CA
This is a beautiful oil that is super nourishing, hydrating and healing for the skin. I mix a few drops with my moisturizer during the day and at night I use it on its own. Worth purchasing and my partner loves it as well.
04 Dec 2020
Anonymous

CA
Amazing ingredients. Has a strong scent, but if you are used to these ingredients the scent will not bother you.
07 Aug 2020
Jennifer A.

Canada
Great oil for extremely dry skin.
I love this oil! My skin flakes a lot all year long around the mouth, chin and nose. Now that I have to wear a mask for 8 hrs a day at work it was getting worse and causing breakouts. From day one this oil helped keep my face moisturized with only one application in the morning and one at night. It does have a strong smell but after 3 days using it I don't notice anymore.
14 Jul 2020
@mrsmeganb

Canada
Loving this so far!
I'm loving this product so far! It doesn't cause me to break out and spreads very well! It's made my face feel very soft and I use it for my hands as well! My ONLY "complaint" is the smell of the elixir. It's smell of this oil is slightly off putting for me.. This is of course just my opinion and everyone's noses are different!! I've used it almost every day since I got it and I'm happy with it so far!! The packaging is my favourite part, the bottle, the box, all of it is beautiful!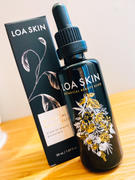 26 Jun 2020
Peggy

Canada
Love this stuff
Works better than the facial serum. I'm not too big on the smell of it however. You also get a better bang for your buck when you buy this vs the facial serum - IMO
22 May 2020
Chevrolet

Canada
Disappointed
Unfortunately this product did not work for me. It's been 3 weeks since Ive been using it and my acne is still red/inflamed and still having breakouts. I had such high hopes for this product as well.