Mello Wellness Disposable CBD Pen
Why We Chose This
It's time to Mello out. This disposable CBD pen by Mello Wellness contains the highest quality of oils and terpenes, with an elegant rose gold finish and sleek design that fits perfectly in your make up bag, pocket, or purse. This pen gives you between 75-100 of the smoothest pulls that have a subtle, yet enjoyable flavour without the lingering after taste. The Mello Pen has a long lasting battery so you can think less about charging and more about relaxing wherever and whenever you may need a moment.
Charger NOT included; compatible with any universal micro USB charger
Ingredients
Hemp Derived CBD Distillate, Pure Organic Food Grade Terpenes, Pure Essential Oils, and All Natural Flavours
What's In The Pen
.5 mL Pen containing 250mg CBD
Directions/Suggested Use
Draw for 2-3 seconds, hold for 3-5 seconds. Repeat and Enjoy!
Guidance
Do not use if you are pregnant or breastfeeding. Consult your healthcare professional before use. Keep product safely out of reach from children.
Shelf Life/Storage
Use within 3 months for best flavour. Store vape in a cool, dark area and away from direct heat sources to avoid leaks. As an all natural product, variations in colour can occur over time and can reasonably be expected.
Customer Reviews
Write a Review
Ask a Question
Filter Reviews:
anxiety
taste
flavour
Love
stress
selection
fatigue
cream
nerves
pain
16 Feb 2021
Tyler

CA
I recommend this product
Mello Wellness CBD only Vape Pen
I bought this product for my anxiety it helps really well when im feeling off. Reason I'm giving it a 4 star is personally didn't like the peaches and cream after taste its definitely not a deal breaker still a great disposable CBD vape pen. Would definitely recommend if you have any anxiety or just wanna relax Use my referral code if you'd like $15 off : TYLER710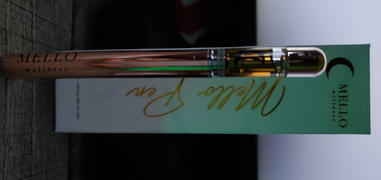 KD
16 Feb 2021
Kyle D.

CA
It was not bad didn't let very long, but would possibly try again
09 Feb 2021
Grace M.

CA
My new essential CBD product!
I am absolutely in love with this pen. I got the Peaches & Cream flavour and the taste is so subtle and good. It has become my new go-to and I keep it on me at all times for whenever I need a little hit of relaxation. Will definitely be re-purchasing!
08 Jan 2021
Susan G.

CA
Absolutely amazing! I felt so calm and relaxed. The taste is just enough; not overbearing. Definitely recommend if you are just starting out and want to try something to achieve calmness.
MS
07 Jan 2021
Morgan S.

CA
I absolutely love this pen! I use it every night before bed to lull myself to sleep and calm my nerves!
04 Dec 2020
Anonymous

CA
I love this product so I hope you keep it available as I'd like to continue using it. It's the first CBD product I've found that helps me with my chronic pain, fatigue, depression and anxiety.