Animalitos CBD Dog Tincture
Why We Chose This
Pets are our best friends and truest allies. They take care of us when we need that post-work uplift, and they greet us with love and support throughout all of our adventures — so why not return the favour? Animalitos CBD Tincture is a non-psychoactive de-stressor and pain reliever for our special furry friends. Combine it with your pet's favourite meal and let them thank you with thousands of cuddles.
Ingredients
MCT Oil, CO2 Extracted CBD Oil
What's In The Bottle
150ml bottle containing 300mg CBD
1mg per 10lbs of body weight
2mg CBD per ml
Directions/Suggested Use
Always start with a small portion (1-2 dops) in order to determine your pet's reaction. Base dose of of bodyweight as mentioned above.
Cautions
Keep out of reach of children. Please consult with your veterinary practitioner if this product/strength is suitable for your dog.
Shelf Life/Storage
Can be stored in cool/dry place for 1 year.
Customer Reviews
Write a Review
Ask a Question
Filter Reviews:
anything
experience
shipping
house
penny
wonders
food
hips
GET20OFF
03/01/2020
Gerard G.
CA
Could not have been better.
Could not have been better. Answers to my inquiries were on it immediately and precise. Received my Animalitos as expected. The people that I had texted were pleasant and helpful. Could not ask more of your organization. THANK YOU 👍
01/20/2020
Dixie K.
CA
This was the second bottle
This was the second bottle I've bought. I have a 10 y/o German Shepard who had bad hips and anxiety. I give him 5 ml x 2 a day. I find he is more social with everyone in the house, it's easier for him to get up/down stairs, he's not panicking when he hears the odd sound thinking it's someone at the door. I really think it's helping him day to day feel better.
12/25/2019
Raquel
Canada
He's happy again!
We love this stuff! Jigsaw is a big German Shepard and he is turning 10 Next week. Along with old age, bad hips and joints, he's also outlived his first two owners. Jigs has 4ml poured over his food twice a day. (He won't take it under his tongue). He becomes more social, more relaxed, more playful. He's able to sleep solid throughout the night without pacing through the house. I'm so thankful I've found something to help him feel like himself again.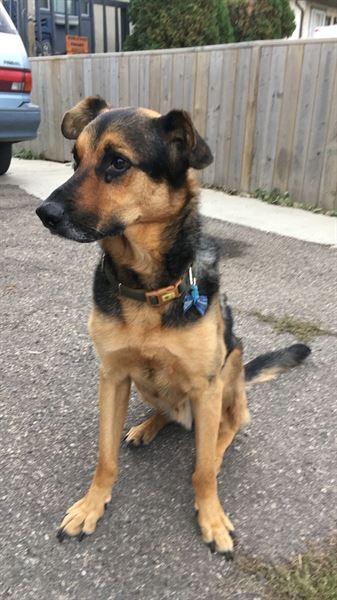 09/27/2019
Candice T.
CA
Experience was awesome as always!
Experience was awesome as always :)
Noticed a difference
Honestly we did notice a difference in our pup. He was much more calm and relaxed during car rides.