MOTA Hybrid Sour Peach Gummies
Why We Chose This
A comfortable-classic with a juicy chew and cannabis infusion that should bring back some childhood memories as you check off your grown-up activities for the day. Enhance your experience and grab for them before a stroll in the park, casual time with friends or actively listening to an interesting audiobook. Precise, consistent dosage with each gummy so you feel right every time.
Ingredients
Glucose Syrup, Sugar, Pectin, Gelatin, Citric Acid, Cannabis, Natural and Artificial Flavours, Carnuba Wax, Sodium Citrate, Fatty Acids & Artificial Colour.
What's In The Package
100mg THC per bag
20mg CBD per bag
10 pieces
10mg THC/2mg CBD per piece
Directions/Suggested Use
Start with 1 peach and wait 45 min to feel effects. Increase dosage as needed or desired.
Cautions
19+. Keep out of reach of children and pets. If you are currently taking any pharmaceutical drugs, are pregnant, breastfeeding or have any medical conditions, please consult with your physician before use. Ask you doctor if this product/strength is right for you.
Shelf Life/Storage
Store in a cool, dark place. Good for 1-3 months after opening.
Customer Reviews
Write a Review
Ask a Question
Filter Reviews:
products
taste
quality
Mota
peaches
CUTEWALK
exception
timing
love mota
orders
28 Feb 2021
Cat

CA
Taste just like the OG Candy
I love these! These fuzzy peaches are my most purchased item, I can never get enough of them. I usually take 1-2 depending on what kind of night I want. The taste is so great and they look identical, so make sure they're hidden well & don't be tempted to eat the whole bag!
31 Dec 2020
Anonymous

CA
When I'm in the states, I always buy the FLAV 10mg edible gummies and they always do the trick. I bought these MOTA 10mg thinking it would be the same dose but for some reason they really didn't hit me as hard as the FLAV. I had to take 2 on an empty stomach to feel high, and I'm only 110 pounds lol.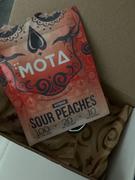 17 Dec 2020
Kayla M.

CA
Good, the timing is as stated and was good to help me relax
15 Dec 2020
Anonymous

CA
Great! I've had 2 or 3 orders so far and they've been delivered on time and they were all correct. The products are really good and they're never damaged when I get them too. All around good service!
27 Nov 2020
Anonymous

CA
I loved the flavour and they helped alleviate my arthritis pain. I'll purchase these again!
19 Nov 2020
A

CA
Love these!
Love Mota products and these peach gummies are no exception! Very tasty and gives a nice mellow high! Use my code AMBER2020 for $15 off!