Birch + Fog Nighttime – Premium Full Spectrum CBD Tincture
Why We Chose This
Introducing Birch + Fog's New Signature Formulation Full-Spectrum CBD Tinctures. Designed for Nighttime use, our Full-Spectrum Tinctures contain all natural hemp-derived and CO2 extracted CBD. Available in a range of 500mg, 1000mg, and 1500mg bottles for precise dosing to suit your needs.
Full-spectrum CBD is made up of hundreds of different phytochemicals like cannabinoids, terpenes, and other compounds. Our full-spectrum CBD oil is minimally refined, leaving most of the cannabinoids and terpenes intact and in the oil. These work together to provide the you with a plethora of benefits.
Full-Spectrum CBD is great for:
aiding in sleep
fighting inflammation
recovery or regeneration of the nervous system
reducing or preventing anxiety
aiding with depression
reducing or preventing seizures/migraines
relieving pain
Ingredients
MCT Oil (Naturally extracted from Coconut Oil), CBD oil
What's In The Bottle
500mg Tincture: 500mg CBD per bottle, 16.66 mg per dropper
1000mg Tincture: 1000mg CBD per bottle, 33.33 mg per dropper
1,500mg Tincture: 1500mg CBD per bottle, 50 mg per dropper
Directions/Suggested Use
Start with 10-15mg dose and increase as needed or suggested by a physician or to suit your individual needs. Place drops sublingually and hold for approx. 60 seconds before swallowing.
Guidance
ALLERGEN: Contains Tree Nuts.
For adults 19 years and up.
Do not take if tamper evident seal is broken or missing. If you are currently taking any pharmaceutical drugs, are pregnant, breastfeeding or have any medical conditions, please consult with your physician before use. Keep out of reach of children and pets.
Shelf Life/Storage
Up to 1 year. Keep in a cool, dry place.
Customer Reviews
Write a Review
Ask a Question
Filter Reviews:
stress
trouble
migraine
headaches
husband
change
Works
tincture
three
results
10 Sep 2020
Camille L.
CA
I'm in love with this !!! Helps me to reduce my sleeping meds :)
04 Sep 2020
Shannon W.
CA
I have been having trouble falling asleep due to stress and anxiety for many months. I finally took my mothers advice and purchased your product. I haven't slept so good. Amazing and thank you
01 Sep 2020
Jen A.
Canada
B+F Night time 500 mg
Quite impressed with the results and it has become part of my nighttime routine. Since it's my first time using a tincture, I was not sure what to expect. Out of 7 days I normally get 4 to 5 headaches, some actually migraines. In February I hurt my shoulders chipping ice on the sidewalk. The last three weeks since starting this tincture I have noticed improved movement and less pain on my shoulders and back. Went a whole week without headaches or migraine. And the few times I've had one this helps me sleep it off at night. During the day I use a different tincture to reduce the chances of pain. Will definitely purchase again!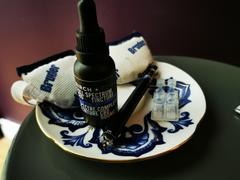 30 Aug 2020
Hayleigh V.
CA
28 Aug 2020
Anonymous
CA
Works really nicely on muscle soreness the next day without leaving me groggy! Only thing is that it tastes a little bit strongly of hemp which can be unpleasant...
28 Aug 2020
Rosemary M.
CA
yes very pleased, thank you