Sweet Tooth Mini Pastilles
Why We Chose This
Perfect for dosing, these 10mg Indica hard candy pieces are infused with Full Spectrum extracts, and are as tasty as they are pretty. Beautifully packaged, these edibles come in a compact tin that is easy to take with you wherever you go. Let one melt in your mouth and allow yourself the relaxation and relief you deserve, or to help ease you into a sweet slumber after a long day.
Contains both Full Spectrum CBD and TetraHydroCannabinol
Ingredients
Full Spectrum Cannabis Oil, Sugar, Cornsyrup, Water, Lorann Flavourings, Americolor Soft Gel Paste
What's In The Package
400mg THC per tin
40 hard candies X 10mg per piece
Directions/Suggested Use
Start with 1 hard candy and wait 45 min to feel effects. Increase dosage as desired, but start low and go slow.
Guidance
Keep out of reach of children and pets. Do not drive or operate machinery under influence. The effects of this product may be delayed and can affect users for many hours after consumption.
Shelf Life/Storage
Store in a cool, dry place. Best if used within 2 months of opening.
Customer Reviews
Write a Review
Ask a Question
Filter Reviews:
edibles
extracts
start
stock
reviews
wife
best
condition
squares
packaging
29 Oct 2020
Patricia E.
CA
I was a little concerned about other reviews saying the squares didn't keep shape but I like trying new things. I was happy to see they arrived in excellent condition and they are tasty and perfect.
20 Sep 2020
Anonymous
CA
Potency and flavour is decent but the pastilles melt like crazy over time. Even with keeping in the refrigerator, it only slows it turning into a gloppy, sticky mess. I added icing sugar to the tin and it kiiiinda helps but just FYI, this is my experiece. Pastilles and hard candies are my preferred choice, so it is nice to find these otherwise.
03 Sep 2020
Marcia L.
CA
The item is fabulous but unfortunately half of it was a melted mess. Was very unhappy ☹️ about that. I was emailed it had been shipped & I received the next morning only to open it up to see the melt. All other product was completely fine.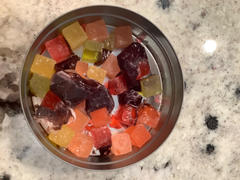 Apologies for your experience Marcia! Our Experience Concierge team is ready to help - please email us at [email protected]
24 Aug 2020
Anonymous
CA
they were all melted and stuck together
24 Aug 2020
Scott H.
CA
My wife tried them and really likes. They help with her sleep and pain relief. Win/win thanks
AM
14 Aug 2020
Anneliese M.
CA
When these arrived, they were all stuck together, and stuck to the paper. Still have not been able to separate them. Will not order again.
Thank you for letting us know Anneliese. We apologize that this product did not meet your expectations and arrived to you like this. Please reach out to us at [email protected] if you ever have any questions or issues with our products as we do have a Return Policy. We appreciate all your support and love! B+F Team