Delush Disposable CBD Vape Pen
Why We Chose This
Whether you are a long-time CBD user or just getting started, Delush's new Full Spectrum Disposable CBD Vape Pen delivers the healing results you are looking for, without the carcinogenic metal mechanics of other pens on the market. Our unique ceramic-coil vape pen is durable without sacrificing style, making your experience both carefree and aesthetically pleasing. Designed to deliver relief from inflammation, pain, anxiety, insomnia, and as an aid for restful sleep; this pen helps put your mind and body at ease, promoting balance and harmony.
Ingredients
Full Spectrum hemp-derived CBD, organic terpenes and premium organic MCT Oil
Content
Full Spectrum CBD Vape Pen – 275mg CBD/14.25mg THC | 0.5g (Rechargeable/Disposable). Our pens are set to heat at a low, consistent temperature (below 200°F) as to not cause harmful carcinogens.
Suggested Usage
Simply inhale from the pen until the pink heart lights up, indicating that CBD has been drawn. To charge, unscrew the heart cap on the bottom of the pen and use a universal Micro-USB charging cord.
Due to the high concentration and potency, the CBD oil may appear to crystallize over time. This is due to the high purity and concentration of the Full Spectrum CBD we use in our products. Crystallization is purely aesthetic and will not affect the function of the device. Oil color & flavor may slightly vary from batch-to-batch due to natural ingredient variations.
Customer Reviews
Write a Review
Ask a Question
Filter Reviews:
anxiety
taste
relief
feeling
Candy Crush
AMBER2020
item
boyfriend
pain
much
24 Nov 2020
Anonymous
CA
Looks beautiful and has a great flavour
04 Oct 2020
Amber
CA
Love it!
Love this CBD vape!! The candy crush flavour is awesome and it's super smooth! It lasts me a long time (a few months!) of regular use! Use my code AMBER2020 for $15 off!
06 Sep 2020
Anonymous
CA
Taste was good but it didn't last long.
14 Aug 2020
Amber
Canada
Love it
I tried the Candy Crush Disposable CBD Vape; Greta flavour and subtle calm feeling!! Very relaxing and I love it! Use my discount code AMBER2020 for $20 off your first order!
21 Jul 2020
Anonymous
CA
Wonderful,very relaxing great taste!
10 Jul 2020
Chrissy
Canada
Pen broke mid way
At first, I really enjoyed my delush pen and was beginning to plan on ordering a next one before this one finished. However, mid way through the pen, It unraveled and broke at the top. Although I tried putting it back together, it didn't work, and all of the rest of the oil ended up spilling out. Kinda disappointed, specially at that price point.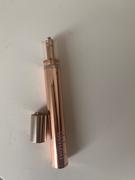 Thank you for your valuable feedback. We apologize that this product did not meet your expectations and broke half way through its life. Please reach out to us at suppor[email protected] and we will do what we can for you within our Return Policy :) Never hesitate to message us if you ever have any questions or issues with our products. We appreciate all your support and love! B+F Team