Give into your candy craving with these assorted gummies in the fruit pack.
Packed with fruity deliciousness, each bag contains 8 gummies and is sure to ENHANCE that weekend brunch with friends, that afternoon stroll through the park, or that late-night movie experience. 1 to 2 gummies are enough to have you rocketing to the moon. Dig in and blastoff!
Lab tested and gluten free!
Each Fruit Pack contain 8 pieces of candies per bag and two pieces of each individual flavour:
Strawberry Daze
Berry Blue Raspberry
Peach Drops
Grape Crush
8 candies : 240mg THC
1 candies : 30mg THC
Directions: 
Start with 1 dose (30mg per candy)
Allow 45 – 90 minutes for effects to take place
Consume as needed
Do not store in heat
Customer Reviews
Filter Reviews:
high
taste
order
gummies
candy
dosage
cannabis
pack
tastes
purchase
12/06/2019
Tatiana Y.
CA
Great for a beginner. Flavour
Great for a beginner. Flavour is awesome. Didn't have an awful aftertaste!
12/03/2019
Grant M.
CA
11/28/2019
Anonymous
CA
Taste great
Taste great and does the job
CM
11/13/2019
Carey M.
CA
Amazing, fall asleep fast
Amazing, fall asleep fast
08/21/2019
Madison O.
CA
These edibles are a ray
These edibles are a ray of sunshine on a cloudy day. I just had a surgery and let's get real for a minute: recovery is never fun, however not only are these candies delicious.. but for the first time out of all five of my surgeries, healing is going excellently; i haven't had to take a single pain killer. I'm so grateful that Canada legalized cannabis so that I don't have to rely on heavy prescription pills while navigating surgery and chronic pain.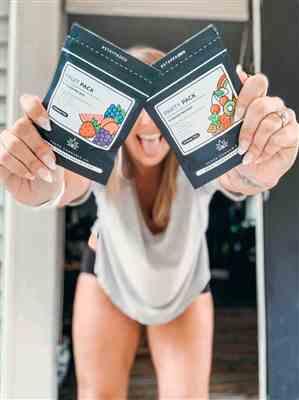 Thank you for your support and feedback :-) Lots of luv, B+F team