Why We Chose This
An essential cannabis resin aka Rick Simpson Oil (RSO) produced using Kloud 9's cold extraction technique that maintains the full cannabinoid and terpene profile of the cannabis plant, so the full entourage effect and healing properties are maintained intact.
The medicinal benefits of THC as an antiemetic (to treat nausea), muscle spasticity and seizures, neuropathic pain, anxiety and insomnia, as well as anti-cancer activity is well known.
These are the best choice for those seeking healing, as well as the discerning cannaseur.
Ingredients
Grade A THC Rick Simpson Oil (RSO)
Produced using an organic, food grade fruit alcohol solvent Kloud 9's unique extraction process removes all residual solvents 100% while maintaining the full profile of medicinal ingredients (Highly Potent)
What's In The Package
Each 1 ml syringe contains a full cannabinoid profile with:
610 mg THC and 2.3 mg CBD
1.5mg CBG
1mg CBC
Content
1 ml syringe amounts to 61 x 10mg doses.
One dose is about the size of a grain of rice (Highly Potent)
Suggested Usage
Can be taken orally (directly under the tongue), vaped, smeared on a rolling paper to add to joints and can be used in cooking (added to a carrier oil and then mixed with food or drinks).
Shelf Life/Storage
Best if used within 6 months of purchase.  Past that the product can start losing its potency.
Customer Reviews
Write a Review
Ask a Question
Filter Reviews:
pain
sleep
stuff
mint
medicine
cancer
mint flavor
vape
times
stars
23 Feb 2021
Barb

CA
I recommend this product
Kloud 9 Phoenix tears
Had a hard time finding a decent RSO product. Kloud 9 is the best yet. I take it for pain and sleeping! it works wonders. Not the best tasting, but let's face it., Good pure RSO isn't meant to taste good but it works awesome and that's what matters! Delivery system also works better than a lot that I have tried. I usually put some on a toothpick so I can dose accurately. A little more than a grain of rice and I'm all set for the night Will definitely be buying again. Give it a try.... you won't be disappointed.
19 Feb 2021
Darlene L.

CA
Well it been a life saver for my hubby pain .I dobt know what I do without this it also helping slow the brain tumor some .Im praying for a mircle . we just had our 11th anniversary If we didnt have this for pain we wouldnt have been able to go out. Thanks for this product if I ever win I know what im ordering ❤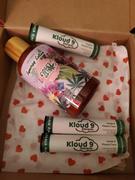 18 Feb 2021
Kate B.

CA
This product is awesome. I put it on my feet mixed with coconut oil and i have the most relaxing sleep
05 Feb 2021
Anonymous

CA
29 Jan 2021
Anonymous

CA
19 Jan 2021
Anonymous

CA
Reliable, strong, uplifting, affordable medicine, useful for my treatment - resistant depression. In fact, a lifesaver. Thanks to the alchemists who make this available.