Mary's 1:1 Low Ratio CBD Oil
Mellow out and put your worries on the back burner with this convenient and versatile 1:1 tincture. The balance of THC and
CBD gives your body the RELAXation that it needs without sacrificing the euphoric effects. Apply topically, orally, or upgrade a boring
mac n' cheese dish with some measured drops and let the waves of pleasure wash over you.
Customer Reviews
Filter Reviews:
high
sleep
products
anyone
times
things
11/16/2019
Wesley D.
CA
Great helps with a sleep
Great helps with a sleep at night
NR
10/17/2019
Nicole R.
CA
High recommended! Make sure to
High recommended! Make sure to micro-dose if you're building on your experience with oils. Im glad that i found Marys brand as I only heard good things about this. I suffer from period cramps, migraines, anxiety and difficulty sleeping, and turned to cbd and have been for a year and its changed my life. I decided to venture into the mixture of thc and glad that i did, it helps my body relax even more and really supports my needs. I love this brand and have also purchased edibles. I love that its canadian based and really good for the price points. Thank you B & F for the best products !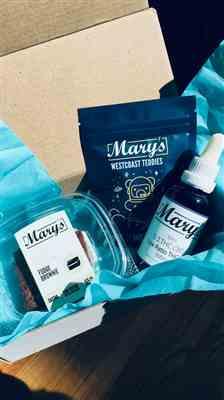 10/11/2019
Joan T.
CA
The best ever
The best ever
10/08/2019
James C.
CA
Good so far!
Good so far!
Thank you for your feedback :-) B+F team
My go to sleep aid
Love this stuff. It's my go to sleep aid. No longer do I experience restless nights, or period pain that I can't handle. If you'd like to try it out, use REBEL at check out for $20 off.